Blog
Our Top 3 Tips for Organizing Your Little One's Wardrobe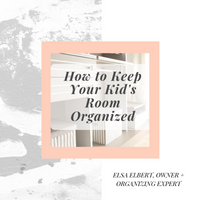 We all know that picking out your children's outfits can be a bit more difficult than laying them out on the bed and asking your child to get dressed. I mean yikes, sometimes it can be a full on warzone when it's time to get ready for the day. While we can't as easily control our children's emotions when it comes to getting dressed, we can implement systems and organization that might help make that process easier.
Here are a few of our favorite quick and easy tips for streamlining your little one's wardrobe:
FILE-FOLDING
File-fold all the clothes in their drawers. This one is HUGE. If your kid likes to help pick out their own outfits, this makes it easier to keep their drawers tidy because they can see their options and won't be digging through! You can just pull open the drawer, have them point to the shirt they want to wear and eliminate all the time spent trying to find that Paw Patrol tee.
Did we mention that it's so easy to do and creates about 30% more room in each drawer? If you don't know how to file fold, watch this videotutorial!
PURGE WHAT THEY DON'T WEAR
Go through their clothes regularly!   anything stained or torn, and donate anything they've outgrown. It might be best to do this portion while the kids are at school -- or in the times of Safer at Home, while they are playing outside -- especially if you are trying to get rid of stained clothing they may still have an attachment to.
TIPS:
If you want to save anything for another little one, store it in a bin out of sight, and label each bin by size.
Take a few items that you would have donated because they don't wear it as often and add it into an emergency grab bag. Each member of your family should have one. For more information on Emergency Preparedness for your family, check out this article by Composed Living.
SEPARATE BY TYPE, AND LABEL, LABEL, LABEL!
Use drawer dividers, baskets, even empty shoe boxes to keep small items from spilling over. Think socks, headbands, tiny hats etc. These work well in drawers to itemize by type and also on closet shelves. Additionally, as your kids are getting older this allows them to help you put their items away by sorting them with like-types. Getting out of the house will become less of a time consuming task if you can grab what they need from their beautifully organized drawers and go!
Which brings us to labeling! Label label label! I love to label everything in my kids' rooms. When they're little, it helps them recognize words and learn to read. When they're bigger, it makes clean-Up a breeze and there are no more excuses of not knowing where things go. This is our favorite label maker, but you can also simply use scraps of paper and tape!
Wishing you all luck with your kiddos as we navigate this time together. Keeping up with the house, being a parent, a teacher, and possibly even a work from home mom is NOT easy and we hope these tips help make it a little bit easier when it comes to getter your littles ready for the day.
Blog Post By:
Elsa Elbert, Owner + Organizing Expert
Elsa has a passion for helping people to discover the many benefits of living a clutter-free, organized life. She has over twenty years of experience, along with a Masters degree in Organizational Leadership. You can view more tricks and tips on her website, https://www.composedliving.com/
Leave a comment (all fields required)