Blog
Should You Dress Your Twins Alike?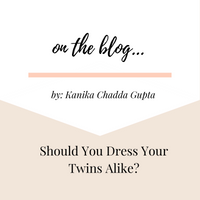 If you're a fellow twin mom, let me start by saying, "I am here for you." We are in a league of our own because we've endured delivering two babies at once (and may have had a NICU experience), know how to tandem breastfeed and bottle feed, have their schedule down pat, and of course have mastered handling double the diapers, baths, and naps along with twice as many hugs, cuddles, and cute clothes! It's a journey through all the feels (x2) and it's incredible.
Matchy Matchy?
Many people expect to see identical twins donning matching outfits or fraternal twins wearing complementary colors. I say trust your "mom sense" (your super power of intuition) on outfit choices. It's undoubtedly easier to buy two of the same garment, but be mindful that their sizes may actually vary. Through my informal research, I've found that dressing your twins (triplets, quadruplets, etc.) the same when they're babies does not have a long term effect on their sense of identity when they're older. And they do make for the cutest photos!
Same, Same But Different
According to a BBC article, Keith Reed, Chief Executive of the Twins and Multiple Births Association (TAMBA), says it is important for parents to help multiple birth children develop their own identities when they're older, meaning 2 years old on up. This can be done by dressing them differently and using their individual names rather than calling them "the twins" or "the triplets." He adds, "If they are used to always being together or always wearing the same clothes, then the older they get the more distressed they may become if you try to make changes. However this does not mean denying their special relationship as one of a multiple. Rather it allows them to see themselves as individuals who have the bonus of being part of a multiple unit." Womb mates to roommates, I say!
I dress my boy-girl twins in outfits that they feel most comfortable in and resonate with their personal style. My daughter is a problem-solving engineer, and is a girly-girl when it comes to fashion. She loves her House of Sofella pink tulle skirt. Pink is her favorite color and she loves to wear skirts all year long (with a pair of tights underneath during colder months). Her twin brother is protective and affectionate. He loves the color blue and likes to look dapper, yet laid back so his shirt of his choice is often a collared button down. My youngest son just loves being part of the party and is outgoing, gregarious, and always smiling. He is athletic and has a penchant for any sport we can introduce him to as a toddler, so he lives in his t-shirts and fleece joggers.
House of Sofella has such a curated collection of styles that are contemporary and chic. I love that the brand allows my kids to have access to European fashion and express themselves in their own unique, special way.
BIO:
Kanika Chadda Gupta is a mom of three [twins + 1] and CEO of Kronologie Agency, a full-service digital marketing firm specializing in branding and web design. As a former television anchor for CNN International , Kanika is a born storyteller and hosts the top-rated podcast, "That's Total Mom Sense," where she interviews industry experts on parenting, lifestyle, and wellness. You can follow her on Instagram @kanikachaddagupta and listen to her episodes on Apple Podcasts,Google Podcasts,Spotify,Stitcher, and her website: www.thatstotalmomsense.com. 
Leave a comment (all fields required)