Blog
Tips On How To Dress Your Baby And Toddler To Promote Autonomy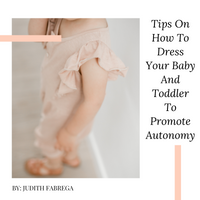 Choosing the right clothes can help your child's autonomy and independence from birth. Not only in the fact that he/she will be able to dress him/herself when he/she is older, but also by promoting and benefiting free movement. There are so many "cute" outfits out there but think about the context and how you can make it functional for each moment.
First of all, choose comfortable, flexible and breathable materials that allow your kid to explore freely. That means, finding good quality clothing that is light and that it is not tight in any area of their body (especially around arms and legs). Think about how fabric feels, is it soft or hard? Is it scratchy or does it feel nice to the touch? When you choose clothing take a moment to feel it, instead of only looking at it. Run your hand along the inside to check if there are any rough stitching or any uncomfortable element. Check if it has long, uncomfortable labels. Also, because of our values at Kabana on using sustainable and non-toxic products, we would recommend paying attention to the fabrics used to make the clothes you buy and how they were made.
For babies, we also recommend allowing bare feet and hands. Those are the main sensory inputs, and they use them in the development of balance and movement. When your baby starts crawling and moving around it is essential to pay attention to the bottoms they are wearing. For example, I would avoid skirts and dresses, because they can difficult the movement; or even jeans, because their fabric can be restrictive in you kid's movements. If the temperature allows it, it would be nice to allow your kid to use only a onesie, because having his/her legs directly into the floor will provide more traction and more sensory exploration. If it is not an option, choose fabrics that are not "slippery".
Once they are walking, there are more possibilities and choices. I would still recommend using comfortable clothing and not worrying about them getting really dirty! Children should not be distracted or limited by their clothing. For this age, wearing clothing with an elastic waist, in cottons and that are breathable seem to be the most comfortable option. Pants and t-shirt, instead of for example a onesie or overalls, will help them in the process of dressing and undressing on their own, because those are easy to put on and take off. Children will need A LOT OF TIME, practice and modeling until they can do it completely by themselves. But this is such a good activity for them to start practicing from early ages. It can help them with body awareness, it is a really complex motor activity (they can even practice with buttons on their own!), and it helps them build their confidence and persistence. Set a space for them with a little chair or stool where they can sit, trust them and give them time.
Bio
Hi, we are Flor and Judith at Kabana. We are both moms and we have experienced how is to raise a kid without a "tribe" to help, and how hard is to find quality activities to do with your little ones. Also, and not less important, we missed having time, space and connections for continue growing as a women and professionals. This is why we decided to create Kabana, an online and on-site space that will bring solution to all those issues!
[Judith has a PhD in education, specializing in Early Childhood; and Flor has more than 15 years of experience in business]
Leave a comment (all fields required)