Blog
Adorable Sustainable Fashion | Featuring TurtleDove London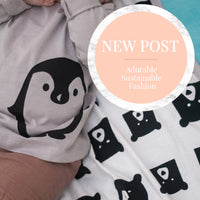 One of the finest European children's clothing brands, Turtledove London is a unisex organic brand that is immensely popular for its fine fabrics, style savvy garments and gender neutral design. It has made immense progress and growth in the organic clothing industry, setting unparalleled standards of sustainable and environmentally-friendly fashion.
Turtledove's high-end collections reflect a passion for passions inspired by everyday life and the beauty of our surroundings. Children are attracted to the rich color palettes and undeniable comfort offered by its rich and pure organic fabrics. The brand maintains upscale clothing collections for girls and boys, and a delightful array of gender neutral clothes that offer an unmatched style savviness and luxury.
Sustainable Fashion Made Adorable
Their clothing is manufactured with organic cotton fabrics, made with Azo-free dyestuffs. Turtledove has made great strides in innovating its sustainable fashion practices, emerging as one of the most conscious European children's clothing brands. This designer clothing brand is GOTS certified for its organic, ethical and sustainable clothing manufacturing processes.
It is highly recommended for children since they have vulnerable and sensitive skin, and are at a greater risk for falling prey to skincare allergies. The organic cotton fabrics devoid of chemical dyes will graze their fabric with a feather-like touch, offering superior comfort. Over the years, the brand has made impressive growth as its fine fabrics and adorable clothes have attracted parents and children from around the world.
Each collection is brimming with mindful and luxurious pieces that offer a lively and eclectic prelude to fast fashion and sustainable living. Designed for children between the ages 0-5, their offerings are amazingly comfortable and delightfully stylish. The collections include preppy and charming outfits and vibrant color palettes that offer a dramatic burst of creativity.
Creativity & Functionality
The collections are characterized by endless creativity and a passion for art. From a mixing and matching of quirky prints and patterns, to adorable graphic art and vibrant color palettes. They allow children to curate stylish and insanely cute wardrobes with outfits that allow them to cherish the simple pleasures of life. These seasonless garments are immensely functional and can be worn all year long.
The gender neutral pieces never cease to be functional with their undeniable comfort and refusal to be discarded. The fine quality organic cotton will never fall apart, allowing the garments to be passed onto younger siblings, cousins and friends. Turtledove infuses each high end garment with a timeless appeal and a delightful color palette.
From quirky dungarees and graphic tops, to clear bottoms, monochrome leggings and adorable playsuits, Turtledove has much to offer to your child's wardrobe. We absolutely adore their gorgeous dresses and skirts for little girls, and the blankets are amazingly comfortable.
The best part is that Turtledove infuses each collection with a charming monochrome aesthetic, celebrating one color that highlighted throughout the collections. This luxury baby clothes brand allows children to embrace the beauty and rhythm of pure, organic fabric and celebrating its comfort. The clear lines and repeated graphics have a unique charm of their own.
Leave a comment (all fields required)