Blog
All that Glitters Featuring IMOGA Fall Collection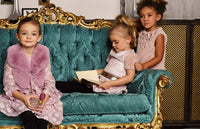 All That Glitters is IMOGA
Little girls dressed in immaculate clothing are hard to find. Why is that? Well, fashionable clothes are a hindrance to their active bodies and active routines. They'd like to be free and soar through the sky. IMOGA is the perfect brand that understands how little girls should be treated, and what they should wear to look and function just like the little divas they are.
IMOGA takes inspiration from the cute, sassy little fashionistas in order to create timeless and trendy outfits for them. You can find exclusive designer clothing for girls ranging in age from newborn to young girls. This designer children's clothing brand has truly made its mark in the fashion world as the leading trendsetter for up and coming fashionistas. Their clothes have an unmatchable quality that is both high-end and upscale. 
Here are some of our favorite style inspirations from 
IMOGA's 2019 Fall/Winter Collection
 IMOGA Sweater Dress
Who's up for killing two birds with one stone? This dress sure is. IMOGA is known for its minimalist designs that are both smart and functional. The pleated neck and sleeves add style and texture to this dress, while the sweater makes it versatile enough to be worn in winter as well as springtime. The subtle grey tone combined with rhinestones and glitter accent gives the dress a high-end look. This sweater dress is the perfect blend of comfort and class in one cute package – what every little girl needs. Pair it with flats, sandals, chunky sneakers, or even flat pumps in glitter gold to create a great contrasting combination. This sweater dress is both classy and trendy; it won't go unnoticed, we promise.
IMOGA Black Chiffon Dress
Dressing up their little dolls is a favorite pastime for all moms; they want their girls to look the best at every formal and family event. Children look great in vibrant colors, but the elegance and sophistication of black can't be ignored. This multi-tiered ruffled IMOGA chiffon dress is full of heart-shaped embroidery. The dress has a smooth lining, making it comfortable to wear for even a lengthy family party. Pair classy ankle boots with a high ponytail, and this dress is the perfect chic look your growing girl needs. The ruffled tiers add texture and sophistication to the dress. This modish and upscale dress will make your little girl the star of any party. Made with the perfect blend of 100% nylon, with trimmings of 100% polyester, and 100% high-quality polyester lining, this dress is comfort and luxury to no end.
IMOGA Gold Puffer Vest
Shine and metallic apparel are major fashion trends this season. Every growing girl needs to stay fashionable, and this vest is their first step. It's the perfect layer to add to her wardrobe this fall. The shiny and glittery metallic is the ideal shade to keep your little girl in the spotlight at every event. This high-shine vest pairs nicely with a colored tee or blouse. If you want to go for a bold effect, pair the vest with all white or all black — this will make the vest really pop. To balance things out, you can pair this high-shine piece with dark pants, denim, or a dark blouse. The dark shades will tone down the metallic shine of the vest. The sparkle of this vest pairs perfectly with a high chic bun or a high ponytail. This funky piece comes with two pockets; making this vest the perfect blend of practicality and style. The versatility of IMOGA products can't be denied — every item of theirs can be dressed up or dressed down.
~ https://www.houseofsofella.com/collections/imoga/products/girls-gold-puffer-vest
IMOGA Pink Faux Fur Jacket
Fur is the favorite for winter; it's both trendy and classy. Want your little girl to follow in your diva steps? Well, start her early with this pink faux fur jacket. Pink is the most feminine and delicate color that also suits all skin tones. IMOGA coats are the reflection of comfort and quality, and this faux fur jacket is no exception. The material is silky smooth and soft to the touch. It also seals out moisture, keeping your little one's skin perfectly dry. This faux fur jacket isn't only functional; it's also a style staple.
IMOGA High Shine Faux Fur Collar Coat 
Love IMOGA's faux fur jacket and high shine vest? With IMOGA's High Shine Faux Fur Collar Coat, you can have elements of both. Metallic and glossy layers are always a fashionable choice; they pair well with all colors and all skin tones. They are bold and stand out in a crowd, but if needed, you can easily tone them down. This cozy coat will bring warmth and style to your princesses' wardrobe during the cooler months. It's also versatile enough to pair with almost any pants or skirts in your girl's closet. The hood is detailed with smooth pink faux fur that adds a touch of charm to the coat.
IMOGA Gold Heart Coat
IMOGA is known for their detail-oriented designs; they are attentive down to the last stitch on your girl's clothing. This navy coat reflects their precise detailing; it's covered with gold hearts that shine like the brightest galaxy. However, just because it's covered in hearts doesn't mean it's childish —the hood is detailed with silky smooth jet black fur that adds a touch of sophistication, and the zipper is hidden to give the coat a cleaner look. Pair it with high shine pants or leggings for the perfect contrast or, black denim for a seamless blend. You can also add glittery sneakers or pumps to match the metallic hearts on the coat.
Send your daughter to school this fall in the trendiest pieces IMOGA offers. No matter the season, we at House of Sofella explore and experiment with the latest fashion trends. IMOGA has quickly become one of our favorite brands because they create high end and luxury styles for every age.
Explore the world of IMOGA today!
Leave a comment (all fields required)