Blog
A Reflection of Whimsical Spirits | This is Appaman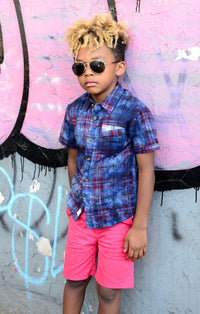 Who is Appaman?
Quirky, loud, formal and vibrant-Appaman is an iconic designer clothing brand that celebrates kids fashion with high-end offerings in a variety of styles and trends. This brand is known for its exquisitely fine tailoring, and its unique blend of Scandinavian charm with American pop graphics.
Founded back in 2003, Appaman has enjoyed a steady rise to the top, outranking many kids designer clothing outlets with its inventive creativity, artsy color palettes, and most importantly, the designer's ability to captivate children with delightful designs. Over the years, this luxury children's clothing brand has established a respectful name for itself with its fine tailoring, and premium quality fabrics. Needless to say, Appaman is a brand known for finesse, charm and creativity!
From trendy streetwear to comfy casuals, sharply tailored formals, and vibrantly loud, kid-friendly color palette, Appaman is the perfect upscale luxury baby clothes brand to help your little ones curate their own personal sense of style. This iconic designer clothing brand, inspired by the artsy and imaginative streets of Brooklyn, appeals to the tastes and passions of little ones, allowing them to radiate confidence in charming formals, and quirky streetwear.
Vibrant Colors
 Appaman has outranked a number of high end European children's clothing brands with it's delightful flair for uniqueness and creativity. Its collection is brimming with a plethora of tried and tested designs, and a fabulous palette of kid-friendly colors. Each collection they curate is brimming with a variety of new pieces, and both, boys and girls, get to rejoice a wondrous variety, designed to flatter their tastes. 
Whether your little girl has a love for glittery sequins, or your 5-year old boy has a developing fondness for quirky graphic t-shirts, Appaman offers an upscale variety of fashion statements to suit any and every occasion. Over the years, Appaman's designs have gotten all the more inventive and charming, evolving with each collection, exploring new lines, and incorporating fun-filled clothing items and accessories.
Fine Tailoring
However, this designer clothing brand has always remained consistent in providing premium quality fabrics and fine tailoring, which stands matchless in the industry of designer clothing. Each collection is a fun-filled adventure of vibrant colors, comfortable fabrics, quirky graphic art and delightful patterns and textures.
When it comes to finely tailored tuxedos, pantsuits and formal dresses, Appaman stands apart in the industry of luxury children's clothes. If you want to teach your little boy the gentleman's art of wearing a suit, Appaman is the ultimate designer clothing brand that can do justice to this poignant moment.
You see, clothing is not merely about covering the body in style, or picking out high-end clothing brands. It is about curating a sense of style, and passing on the gift of glamour and style to your children. Appaman is a brand that allows children to cultivate a strong sense of style, alongside igniting their confidence with exclusive and lovingly designed clothing items that add versatility to their wardrobe.
Quality speaks volumes, and Appaman is a distinguished designer clothing brand that is cherished for it's fine tailoring, adorable outfits and the unique comfort that comes to premium quality fabrics.
Leave a comment (all fields required)