Blog
Lili Gaufrette, From Paris with Love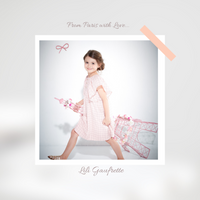 From Paris with Love,
An award-winning European children's clothing brand, Lili Gaufrette offers high-end collections of gorgeous clothing items, accessories and fine fabrics for little girls. It is the ultimate upscale French brand to gift your little girl the love of fashion, and the passion to play dress up with creative, modern and exquisite clothing and accessories.
Lili Gaufrette, founded in 1988, is the brainchild of the talented and highly acclaimed French designer, Catherine Wollner, who has won hearts across the globe with her intensely creative and beautiful luxury baby clothes collections. From bubbly color palettes and elegant dresses to care-free sparkles, glittery party wear, and refined school wear.
Mischievous, Creative & Bubbly This French brand is characterized by its refreshingly carefree, playfully mischievous, tender color palettes and creative designs. Their collections are inspired by the emotions and memories of childhood, and it allows little girls to flaunt an elegant and tasteful wardrobe that revives timeless classics with a contemporary twist.
This upscale European children's clothing brand allows little girls to embrace the art of style and play around with a wide range of color palettes, fine fabrics, rich textures, and much more. From party wear to contemporary streetwear, and formal dresses for school-Lili Gaufrette offers designer clothing for any and every occasion.
Fine Fabrics & Unmatched Quality Lili Gaufrette is unmatched in its dedication to provide the finest and softest of cotton, designed with elaborate cuts, cutting-edge trends and a refined tastefulness with modern twists. They procure the finest of fabrics and natural materials for their summer and winter, and their elaborate designs, designed and manufactured in Paris, undergo a meticulous process of scrutiny to ensure superior craftsmanship. It is the ultimate luxury baby clothes brands for girls aged 2 to 12, and it provides a remarkable variety of dresses, eclectic jackets, cozy winter apparel, quirky accessories and much more.
We are die-hard fans of Lili Gaufrette's gorgeous tulle dresses, sparkly party wear, fur-lined hooded jackets, intricate petticoats, and tastefully designed ruffled cashmere cardigans. Inspired by the designer clothing trends and traditional Parisian styles, Lili Gaufrette introduces little girls to endless variety that is preppy, chic and endlessly sophisticated.
Its quirky tweed skirts, plaid pants, Eiffel tower prints, animated patterns, and pleated items offered in girly color palettes are imaginative and create a high-fashion wardrobe that inspires confidence and a strong aesthetic sense in fashionable little girls.
Leave a comment (all fields required)