Blog
Our Top Five Outfit Choices for Mother's Day | House of Sofella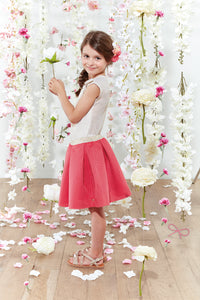 As a mom and shop owner of designer clothing for children, I can't help but plan my kids' outfits in advance. Even when I'm searching for new designs to carry, I'm envisioning where and when they could wear it! So it should come as no surprise that I'm already thinking about our Mother's Day wardrobe. If you have something special planned, take a peek at our top five choices for the special day.
Hand-Picked Just for You
At House of Sofella, you'll always find a unique selection of designer clothing for your little ones. With an eye for fashion and a love of European clothing designs, I'm always busy finding fresh clothing and accessory choices for you to mix and match. Each decision is made after getting to know the designers then selecting pieces with lots of love, thought, and careful consideration. 
For Your Little Man
 Boys 
You'll adore the look of the Boys Beach Shirt, whether worn casually or getting dressed up. Offered in White and Chalk Pink, he'll look handsome for Mother's Day in either. The comfy knit button-up pairs well with our South Beach Plaid Tie. Our relaxed linen Boys Beach Pant, in Riviera or Ivory, will complete this adorable look. All three items are brilliant creations of European clothing designer Appaman. 
Baby Boys
He'll be dashing in our yellow Plaid Cotton Woven Onesie by Me & Henry. With a partial button-down front, collar, and front pocket, he'll be the envy of the other babies. If yellow isn't his best color, take a look at the Green and Red or the Green Stripeoptions. Add a pair of our 3 Pommes Blue Denim Jeans, and he'll be ready to go.
For Your Little Miss
 Girls 
Our coral Pleated Dress with Ruffles is just in time for May! She'll be twirling with delight in this pleated chiffon beauty. Our Decorated Denim Jacketmakes the perfect addition for a chilly outing or to simply add a casual look to the outfit. Both fabulous pieces are designed by Mayoral. 
 Hold the frills? Not a problem! She'll light up the room in our yellow Sleeveless Flared Blouse with a button-down front and sophisticated collar. Worn with our stylish Black Faux Leather Leggings, she may just out-do mom on Mother's Day! These designer clothing must-haves are created by Mayoral and Deux Par Deux.
 Baby Girls
You will fall in love with our Organic Cotton Waffle Dress in natural! Designed by 1+ In the Family, this flowy, two-tone dress offers fringed sleeves and delicate buttons that line the length of the dress down the back.  
No matter where your plans may take you for Mother's Day, we have a stunning outfit to fit the occasion. With an array of colors and styles to choose from, you may not be able to get away with just one outfit! Make sure you stop by often, so you don't miss the latest European designs. Ready to dive in? Visit House of Sofella now!
Leave a comment (all fields required)