Blog
The Art of the "Hand Me Down" - Tale of 2 Sisters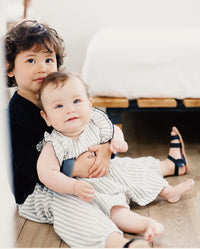 I am two years younger than my older sister and I'm no stranger to hand me downs, that's for certain. Aside from not having much growing up, I wasn't particularly very understanding as to the reasons I had to wear my sisters old clothes. They were't the most stylish to begin with and by the time they made their way to me, well you can imagine. The flattering patterns had melted away with multiple washes in the laundry. The bright colors had faded to barely there hues and well, I wasn't feeling like the luckiest of little siblings. But, I had no choice really and didn't have much of a say. 
 Now, I have two children of my own. Both girls and they are 2 years apart, just like my sister and I. I remember saying ill never do that to them. I would never make my youngest wear the "old" hand me downs of my oldest. It's safe to say I was scarred. I had so much fun dressing up my girls. I didn't wait, I dressed them up like little dolls from the second they were born. With my first it was a very exciting time. Yes, I over spent and yes, I over bought but who could blame me? This was my dream come true, little dolls to play dress up with. 
 There was this cute little children's boutique in our neighborhood. It definitely stood out from all the rest because of the designer European brands they introduced to the area. Jean Bourget, 3Pommes, Catimini, Deux Par Deux just to name a few. This was all new and exciting to us. The styles were unique and interesting. The materials were special and the stitching smart. These luxuries, however, came at a price. I'll be honest, as a new mom it absolutely wasn't necessary to purchase these designer brands seeing how young they were and how quickly they grew out of their clothes. But, there is this phenomenon called a grandmother. For some reason they often times don't see the price tags, perhaps because their hearts are exploding with love. So, naturally, I did nothing to get in their way. And may the spoiling begin…
 Now, due to the nature of children growing at rapid speeds and not many "fancy" places to attend with a toddler, the clothes were being neglected. These beautiful, unique designer European clothes were not being worn to their full potential. My heart would bleed thinking Sofia would only wear the stunning Jean Bourgetlace trim holiday dress just once. Or she may never get the chance to put on the Catiminipink faux fur coat with pearl accents. Needless to say, I was devastated. These stunning and one a kind pieces were being mistreated and it was all my fault. And then I saw the light. 
 It was time for winter to be packed up and stored away, clothing anyway. Time to make room in the closets and dressers for spring and summer collections. I was now 7 months pregnant with my second girl. Packing and organizing took a very long time because I was having a hard time with putting away clothing that was never worn. Most of these items had been worn a few times and some never before. Having another girl meant another new opportunity to bring life to these styles. I was excited now. I no longer thought of this process as the same "hand me down" I experienced. Oh no, this was different. This was special. I kept every single article of clothing from Sofia for Stella, and you know what? Every dress, every skirt and every jacket was as if they were newly purchased. The quality surpassed anything showcased in current retail stores, so I was winning here. These brands, these European designer children's clothing brands were something special and I was more than honored to keep them for my second child. So the old "hand me down" was the new "hand em over". 
 As a mother, longevity was key when choosing clothing not only for my own girls, but also the children of my potential customers. These brands are very near and dear to our hearts because I know first hand the kind potential they have to be passed down from sibling to sibling. These European designer brands are not only unique and special but they are also designed and manufactured with precision and expertise. So welcome to House of Sofella, an online boutique customized to surpass your "hand me down" needs. 
Leave a comment (all fields required)