Blog
Welcome To Our Blog | Mommy, Sofia & Stella | House of Sofella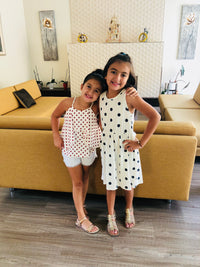 Who is House of Sofella? It started with a dream, a dream that quickly became a concept and a concept that transformed into a reality. My name is Lily. A proud single mother of two extrordinary yet sassy little girls, Sofia & Stella. We often talked about one day having our own business. They would say, "mommy, whatever you decided we want to help you build it". We are an Armenian family living in Los Angeles. Raising kids in our culture means we get the entire family involved and that is why is was so important to have my girls involved with the business from conception on. They are the inspiration, the drive and the force behind the business and therefor it was only fitting their names be apart of it as well. And so there you have it, House of Sofella was born. The combination of their names is a daily reminder of who this is all for, them. 
Sofia, 8 and Stella, 6 have always loved dressing up as all little girls do. They had always been very involved and annoyingly opinionated when it came to dressing them for any occasion. I remember I would always think to myself, how can they know at such a young age? But they knew, and sometimes too well. This characteristic has become very useful to our business now. They help select all the styles you see. Sofia models almost all the styles in her age group and Stella couldn't be bothered. But that's alright because she's involved in many other ways. The brands we have handpicked and feature are very near and dear to our hearts. I have passion for great material and longevity and I search for not only the best, but reasonably priced unique pieces.
So, there you have it. The influence behind the business. With this I hope to inspire them to always work hard and thrive. To instill work ethic that will help guide them throughout adulthood. To never expect anything without putting the work in. As they have been my inspiration I hope to be theirs. 
Thank you for taking this journey with us.
Always With Love,
Mommy, Sofia & Stella
Comments (1 Response)
Leave a comment (all fields required)